The difference between information and formation is story.
— Pastor Jeya
Psalm 34:18 reminds us, "The Lord is close to the brokenhearted and saves those who are crushed in spirit." As a church, we continue to pray for those suffering the sorrow of lost loved ones in the mass school shooting in Florida as well as seek ways to embody and demonstrate a better way forward through Jesus — that God's will would be done on earth as it is in heaven.
The statistics on school shootings in our country are staggering, heartbreaking, and confounding. Reading the stories of those who lost their lives, however, reminds us of the difference between numbers on a page and real, human lives. Peter Wang, 15 years old, "was a member of the JROTC program at Douglas. His cousin, Aaron Chen, told the Miami Herald that Peter was last seen wearing his uniform and holding the door open so that people could escape." Aaron Feis, assistant football coach, "died while using his body to shield students from bullets as the gunman opened fire." Artist Pia Guerra's editorial cartoon, "Hero's Welcome," captures poignantly his sacrifice: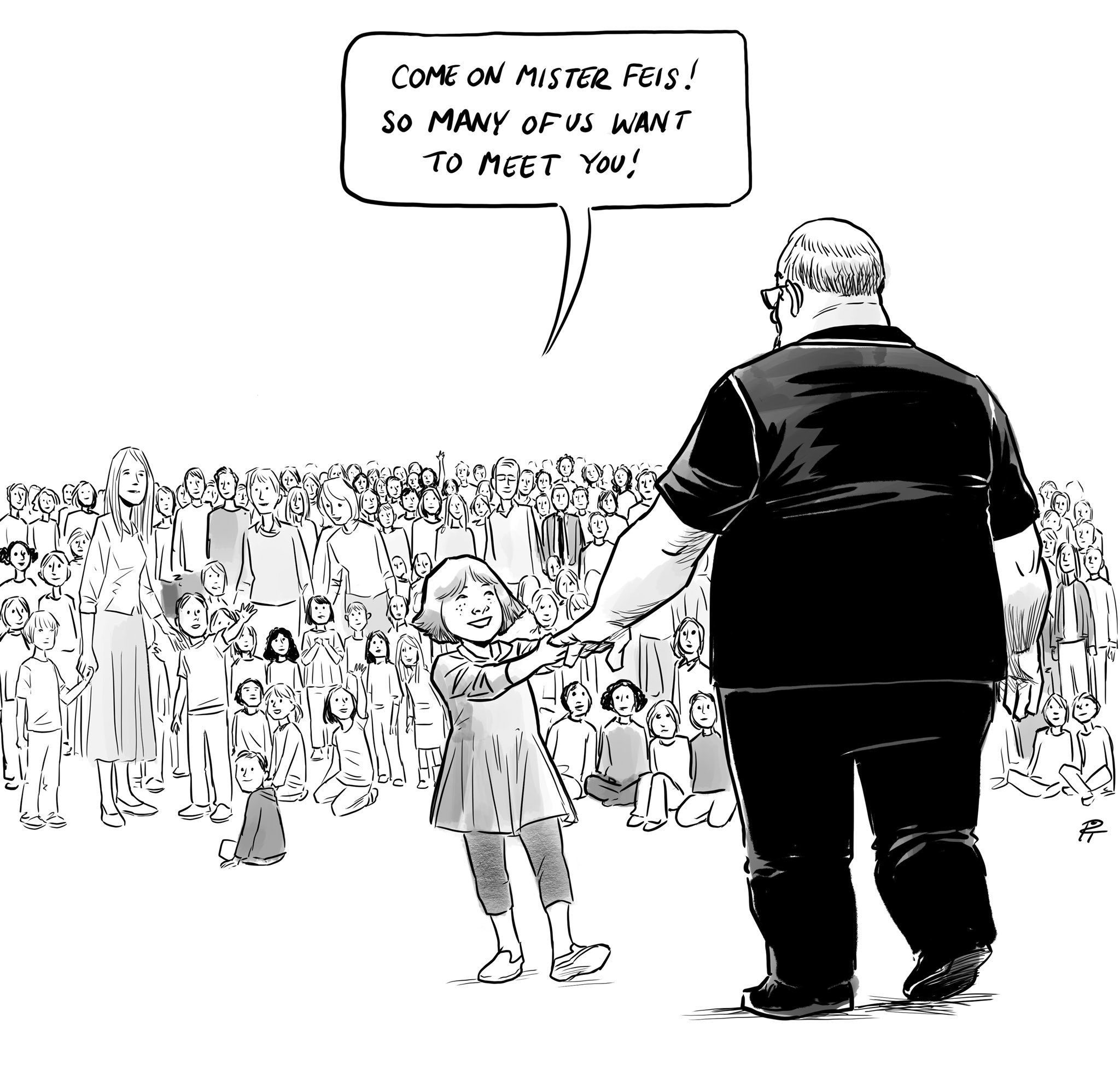 ——————
We might not naturally imagine the Ten Commandments as part of a story — a set of rules hardly inspires the imagination. However, when we read Exodus 20:1-17 in the context of The Story of God, we see a compelling picture emerge.
By way of (very brief) review:
The Story begins with God, and the first word of His creation is that it is good. We are reminded that every person has inherent dignity and worth because of the Imago Dei — each of us are made "very good" in the image of God.
The narrative of Noah and the flood reminds us that sin, evil, and brokenness are real, but they do not have the final word. The Story of God unfolds as a circle, with beginnings and new beginnings — promise, hope, and redemption, even in our darkest hour.
The story of Abraham and Isaac reminds us that 

God

is the center of the story. This is not about a petty "god" who demands we destroy the thing we love most — in fact, God acknowledges horror of custom of child sacrifice false pagan gods demanded, and makes a spectacle of it by dismantling it. God doesn't ask of us anything He isn't willing to do Himself. If there is sacrifice to be made, it is ultimately made 

by Him

.
——————
How does God rebuild, restore, renew the world? Through a people, set apart for Himself.
Hundreds of years passed between Abraham's call to bless the world and the Israelites finding themselves in slavery in Egypt, but God remained faithful. God worked to preserve Moses' life — shielding him from the bloodthirsty madness of a Pharaoh and using him as a leader despite his own sin & brokenness.
God rescued His people from slavery to become a holy nation, set apart for the purposes of God. 
God gave His people the Law to protect people from behaviors that have the potential for destroying relationships w God & others and to move toward beauty, order, dream of God rather than chaos & disorder. Seen in this light, the Ten Commandments could be viewed as a starting point for how to demonstrate the Kingdom of God in reality.
——————
This call to obedience is set in the context of relationship — by reminding us that we belong to God, we have confidence to live in the freedom we have in Him.
Forgive the silliness of this illustration, but Tommy Boy can help us understand what it means to be free to take risks when we have assurance and confidence in our lives (and forgive the irony of the taking of the Lord's name in vain in this clip):
——————
We must resist the temptation to put ourselves in the center of the story. Otherwise, it would be easy to distort our understanding of the command to keep Sabbath as a day of "me time" first and foremost:
Rather, Sabbath is holy, set apart unto the Lord. The commandment makes it clear that it is a reflection of the rhythm of creation. In fact, it is an act of surrender more than luxury or comfort.
——————
True freedom is not a license to sin, but the freedom to become everything God has created you to be.